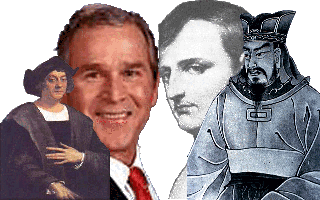 There have been many ninjas since Adam, such as Napoleon, Columbus, Sun Tzu, all which have faked their deaths, but the next one that played a major role in history is George Bush.
Dubbya uses the deadly monkey style technique. Little do people know, because ninjas can easily hide their true identities, that Dubbya assassinated taliban leader Osama Bin Ladden. Dubbya ripped through over 500 terrorists and then with his deadly monkey poison (made out of twigs, leaves, and sloth teeth) poisoned Osama through peer pressure.
Van Halen is a ninja. The rest of ninja history is being made now.