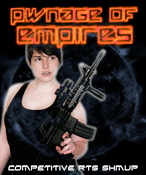 Pwnage of Empires is a real time strategy game similar to StarCraft, Age of Empires, Command and Conquer, Halo Wars, etc.
Pwnage of Empires is a traditional style real time strategy game with shoot em up elements. Two teams face off against each other starting with headquarters set up next to resources. Players gather resources and use them to build up an army. The army can be commanded like a traditional select and give orders RTS way but players can also pilot any unit themselves like in a twin stick shoot em up game. There is much strategy involved like any real time strategy game, but a skilled enough player can destroy an entire army with just one unit.
Multiplayer allows multiple players to control the same army cooperatively in 10 campaign levels or go head to head in skirmish and micro battle modes. In skirmish mode both teams start with a basic base and build an army to destroy each other. In micro battle games both teams face off with five random units.