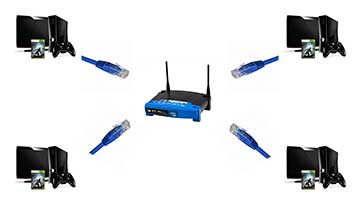 You can connect as many original Xboxes, Xbox 360s, and Xbox Ones together as you want, but you need a copy of the game for each Xbox along with a screen to connect it to.
To play a game together you have to connect the Xboxes together. You can do this using an ethernet router, hub, or switch.
Connect each xbox to the router using a cat 5 ethernet cable (cat 4, cat 6, etc. all work too). An Xbox connected to the router can play games with any other Xboxes connected to the router.
If you have a wireless router you can connect them wirelessly instead. You can even have some Xboxes connected wirelessly and some connected with wires.